Welcome to ServePoint!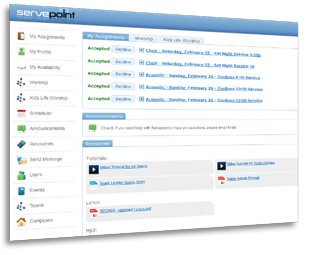 ServePoint is an online system that will help you and your church connect and serve together.
ServePoint allows team leaders to schedule team members for services and events, upload resources, and keep everyone in synch via email and text messaging.
When you are scheduled for an event, ServePoint will:
Notify you via email or text
Allow you to accept or decline
Remind you of the event
Provide any resources you may need
You can use the "My Profile" link to:
Change your password
Update your contact information
Enter you availability (vacations, etc...)
You will find a quick "how-to" video when you login, that will show you all the features.